Friday, December the 2nd, 2005
Normal people can just close this browser tab and come back another time.
If you're a geek (like this site's author) and frequent it for juicy tidbits on geeky things, I know you've been sorely disappointed for quite a while. What, with all the talk about foxy nurses and sweet-scented women and such.
Fear not my over-nourished, under-active cohorts, things are about to change.
Over last weekend, after ages, I tried to build GNOME from CVS. Contrary to popular belief, I am thankful for the fact that it's freaking cold out in these parts. This keeps my otherwise-extremely-flaky laptop cool and alive at 100% processor usage for the evening or whatever it takes to build GNOME and its cohorts. No more "thermal event" system failures. Yay!
For the next 8 months, anyway.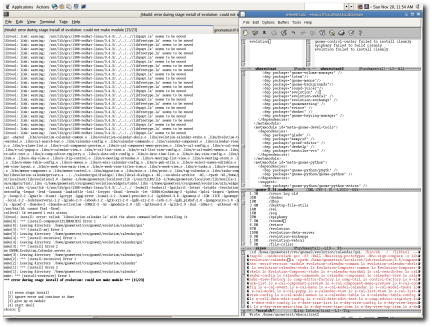 Turns out, it wasn't worth the pain [PDF]. Try zooming into that figure, and it's like an infinitely dense fractal. No matter how deep you go, the dependency arrows still seem like a mangled mess. After toying around with some small sample apps, I gave up and decided to wait until the distribution folk packaged the bigger apps like Evolution. Along the same lines, I did embark toward modern doohickeys like Xgl, but soon gave up on that idea as well.
Honestly, I muttered something akin to "Screw that, life is too short". But I have to say,
» zenity is the most simply-useful thing I've seen in a long while,
» what the fuck is up with so much Python use? Don't people realize using anything other than C is nearly-automatically dog slow? Don't even get me started on Java. Why not just start using Haskell or LISP, or heaven-forbid, C# everywhere?,
» after so long, gnome-terminal finally doesn't seem sluggish,
» and why is esound still around?
But all was not lost. During the course of mucking around, I realised Emacs could be built using GTK as its widget toolkit and using Xft for anti-aliased fonts. So, in between writing something, I checked it out and built it.
Voila!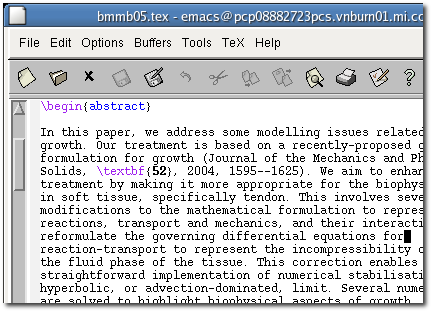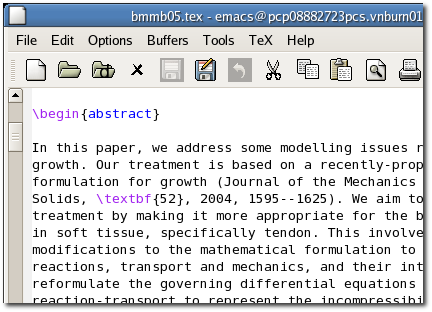 It's so sweet, this post is being typed up on it. All the Emacsy flavour you love, none of the calories!
Here's how you can go about getting it yourself:
Fetch the sources from savannah's CVS.
export CVS_RSH=ssh
cvs -z3 -d:pserver:anonymous@cvs.sv.gnu.org:/cvsroot/emacs co emacs
cd emacs
cvs -z3 -d:pserver:anonymous@cvs.sv.gnu.org:/cvsroot/emacs up -Pd -r XFT_JHD_BRANCH
Configure and build it.
cd emacs
./configure —prefix=/your/fav/place —with-gtk —with-xft
make bootstrap
(Wait 19,000 years.)
make
make install
Run it and have enjoy!
/your/fav/place/bin/emacs --font "Bitstream Vera Sans Mono-10"