Sunday, October the 7th, 2007
Cos there's so little else occupying my head.
This entry (or a couple, I haven't finalised on how I plan to put these thoughts across) will surely ruffle some feathers, but what the heck? it's not like anyone's going to be reading after all this downtime.
1. It's not like I am drawn to women who are with other people. It's just, anyone who I deem worthy of being drawn-to already happens to be with someone else.
2. It's not fair that the women (from my part of the world) who entered grad school around the time I did were as hideous as they were. What's worse is that the influx has been getting about twice as attractive each year. Refer the figure below for details.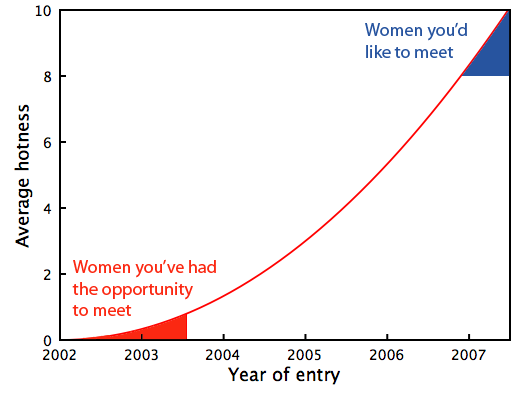 This is most unfair, because I have no avenue to talk to those part of the current crop.
3. It's not fair that the only person—who, incidentally, crossing the street in her halter top routinely causes accidents—whom you somehow manage to concoct a legitimate reason to spend some time with happens to be a Bible thumper.
Hmm. Perhaps if I trick her into making me one of her pet "let's enlighten him for his own good" projects, things will look up.