Sunday, January the 6th, 2008
Emerging from the south of my country, moreover so from a city and community rife with anti-Hindi sentiment, it's not surprising that I hadn't seen a single Hindi movie during the course of my entire life. All that changed a couple of days ago, when my kin dragged me along to a screening of Taare Zameen Par, a quaint little feature with a moving social message.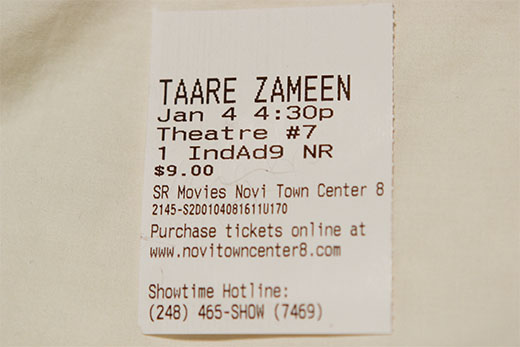 It's because of this heartwarming message and the wonderful acting all across the board that I'm willing to overlook the fairytale ending, the needless random breakouts into song and dance, and the overly colour-saturated cinematography, to proclaim that it was a very moving and delightful experience; something which I had least expected.
I can heartily recommend this movie to anyone who's curious about what Indian cinema has to offer (it screens here complete with well-written English subtitles) though I recognise that it isn't even remotely representative of the standard fare, to anyone who knows someone with a learning disability or mental handicap, or to anyone who's experienced a certain very third world mentality I try hard to rally against: That if you're not the absolute best at what you do, be it anything from not scoring at the top of your class in an inconsequential test in first grade, to not earning the most amongst your peers upon completing your education, you're an utter failure.
In summary, if you belong to any of those groups, please try it. You won't be disappointed.