Friday, May the 19th, 2006
People keep asking me about temperatures I experience with the MacBook Pro, and I've gotten tired of repeating myself. I've decided to document it once in for all and get it over with. All the following measurements are carried out in a pleasantly cool room (whose temperature I do not know) where the computer is placed on a flat surface; my crummy table.
First, we have it 20 minutes after booting up, just sitting idle under battery.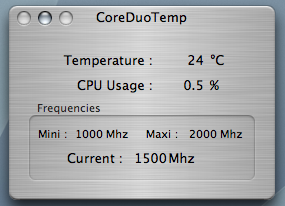 I then plugged it into AC, and ran it under full load[1] for the next 45 minutes.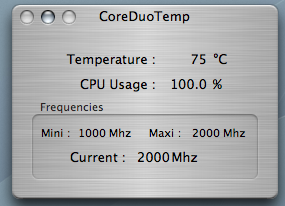 And finally, we have the most realistic situation. After killing the load mentioned previously, I proceeded to use it under normal light load (e-mail, web browser, Emacs, …) for 20 more minutes while continuing to have it plugged into AC. It landed up somewhere in the middle.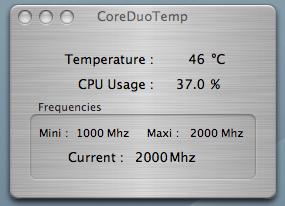 Note that these are temperatures from the internal sensors. The outer body temperatures ought to be less, since it's away from the source of heat. But not by much, because they use so much god-damn aluminium. You might also be interested to know that the fans barely kicked in during these tests, and the system was near silent.
[1] To effect this full load, I ran two copies of the following script, loader.py:

import math
while 1:
    for x in range(10000):
        y = math.cos(x)

with python loader.py typed out into two terminal windows.