Tuesday, March the 8th, 2005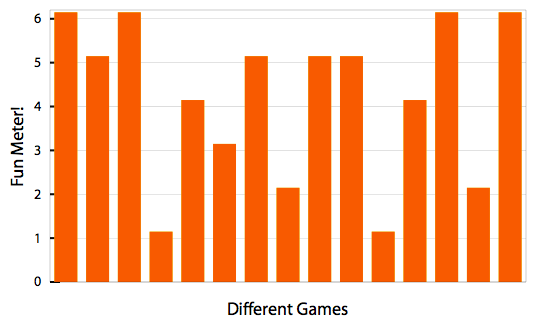 I recently [October, 2004] bought a Nintendo GameCube. I'm sure it will rock, but I don't really have many games or accessories for it yet. Here's what I own so far, in inverse chronological order:
Games:
Mario Kart: Double Dash!! — The most fun you and a bunch of people will ever have! [6/6]
Resident Evil – 4 — Action-packed, but deviates too much from the puzzle-heavy forte of its brethren [5/6]
Metroid Prime 2: Echoes — Though the story had little to do with metroids, it felt just like the original, only better [6/6]
Prince of Persia: Warrior Within — They took all that was good about the original, and threw it out the window [1/6]
Animal Crossing
Metal Gear Solid: The Twin Snakes
Viewtiful Joe – 2 — More of the exact same goodness, but too short and tends to be repetitive [4/6]
Super Monkey Ball – 2 — Mostly pick-up-and-play fun, but cheesy and simplistic gameplay [3/6]
Resident Evil Zero — Subtle tweaks make it better than the original [5/6]
Need for Speed Underground — An occasionally interesting game that's a little too ghetto, and a little too aliased [2/6]
Viewtiful Joe — Beautiful, stylish and slick old school fun, but can be very challenging [5/6]
Pikmin
Prince of Persia: Sands of Time — Short and easy, but insanely fun with an engrossing story [5/6]
Luigi's Mansion — I am still in shock that this is a first-party Nintendo game [1/6]
Resident Evil — Frighteningly gorgeous, intelligently fabricated, with some awkward control issues [4/6]
The Legend of Zelda: The Wind Waker — Beyond awesome, absolutely loved and worshipped [6/6]
Super Mario Sunshine — Pleasant at a few points, but in general extremely tedious [2/6]
Metroid Prime — Diverse, vast, beautiful and immersive [6/6]
Accessories:
Nintendo Memory Card 59
GameCube WaveBird Wireless Controller — Platinum
Nintendo Memory Card 1019
If you know of other stuff to add to improve my now-sorry list, I'd love to hear about it. That way you can be the zealot you always wanted to for your favourite games, and I can reduce the amount of research I need to do before buying a new game. It's a win-win situation!
Current open suggestions:
(Thanks!)
Super Monkey Ball – 1
Paper Mario: The Thousand-Year Door
Super Smash Bros. Melee
Pikmin – 2
Eternal Darkness: Sanity's Requiem
Mario Power Tennis
Prince of Persia: The Two Thrones
Freedom Fighters